Er zijn steeds meer boeken over het breien op breiringen te koop. De onderstaande boeken zijn allemaal in Nederland te koop. ( december 2013)
Learn to knit cables on looms.
geschreven door Isela phelps.
Weer een dun boekje, maar met hele duidelijke uitleg over het maken van kabels op looms. De projecten zijn gemaakt op de knifty knitter. Het zijn er 9, te weten: sokken, een babytruitje, 2 tassen, muts en sjaal en 2 omslagdoeken.
Dit boek is een aanrader. Door de duidelijke info over kabels maken biedt het zeker een uitdaging om eens iets anders te doen dan steeds maar weer recht toe recht aan breien.
---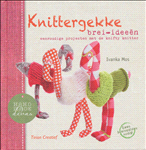 In Knittergekke brei-ideeën toont auteur Ivanka Mos uiteenlopende projecten, zoals gebreide eierdopjes om de paastafel paasklaar te maken en gebreide kerstengels om de kerstboom mee te versieren. Zo heeft iedereen het hele jaar door breiplezier!
De samenstelster van deze uitgave heeft zich laten inspireren door haar eigen, zeer persoonlijke fantasieën en ze vertaald in vrolijke en lieve werkstukjes met een eigen twist. Kussens, een tafelloper, placemats, een theemuts, maar ook beestjes als flamingo's en kameleons. Vooral de laatste zijn bijzonder mooi, net als de kerstengeltjes en -mannetjes.
(Tekst: bruna.nl)
---
Knitting looms are amazingly easy to use and they're available in a wide variety of shapes and sizes. Look at the stylish knits you can create - without knitting needles! All the basic instructions are here. You can make hats, wraps and a cozy blanket with sleeves. There are slippers, scarves, a felted tote and mitts that convert to handwarmers. Kids will go ape over the sock monkey earflap hat and pocket scarf! It's a snap to find the information you need, because the projects include page references for the techniques you'll use. Dozens of photos show how simple it is to make all 18 of these exciting designs by Kathy Norris on round or straight looms!
(tekst: bol.com)
Have you discovered the hot tool that makes knitting easier than ever before - without knitting needles? It's a knitting loom (also known as a knitting wheel), and using one is as simple as wrapping yarn around the pegs and lifting the yarn loops with a pick-like tool. Clear photos and instructions make it a breeze to learn everything you need to know. The 18 projects in I Can't Believe I'm Loom Knitting include Beginner Knit Hat, Next-Step E-Wrap Knit Hat, Garter Stitch Brim Hat, Sampler Afghan, Corn on the Cob Hat & Scarf, Honeycomb Hat & Scarf, Felted Basketweave Tote, Hooded Vest, Lattice Pillow, Bejeweled Fingerless Gloves, Robin's Hood, Garter Wedges Baby Blanket, Ridged Lace Hat, Lace Wrap, Felted Candy Cane Stocking, and Panda Hat.
tekst: bol.com
---
If you have struggled to knit with needles, loom knitting is an easy craft to master - children and adults alike can learn in a few hours.Loom knitting is a revolutionary way of knitting that uses a circular or rectangular loom, or knitting board, consisting of a frame with pegs. Looms are easy and fun to use, even without conventional knitting experience. You can create almost anything, from knitted tubes for hats or socks to flat panels for scarves, shawls and sweaters.This book is designed as an essential reference and a hands-on project resource for the loom knitter. Throughout the book you will find loom-knitting techniques for both round and rectangular looms, together with practice projects. An inspiring design section presents more than 30 patterns to get you started in your new loom-knitting adventure. Also included is a guide to the similarities between loom knitting and needle knitting, and a glossary of techniques.This book provides everything you need to master loom knitting quickly and easily. It is an essential loom-knitting manual to supplement the often scant instructions supplied with the looms. It includes more than 30 nifty, no-needle, quick and easy patterns.
tekst: bol.com
---
You may be surprised to learn the range of knitted projects you can make without knitting needles! Long looms are another way to knit and this technique can be easily learned. The ability to make double knit fabric gives more options for surface texture, two-color work and larger projects. The resulting projects can be extra warm and give these items a wide range of uses. The designs in this book range from simple scarves and shawls to the more detailed felted slippers and a beaded mitten/hat and scarf set. Small projects such as the Garden Party Coasters and Place Mats are quick to knit, while the Color Block Baby Blanket and the Reversed Checkered Afghan offer more hours of happy knitting. A gift of the padded-sole Toasty Toes Moccasins is sure to be welcomed. Knitters who lack the dexterity to use needles may find that long loom knitting will enable them to create many beautiful and functional items. Making the useful and attractive designs in this book will enhance feelings of accomplishment and creative expression. Perfect for younger and mature knitters, long loom knitting can ensure hours of fun for knitters of all skill levels. Designer Anne Bipes is an experienced teacher whose designs are sure to inspire you. Her hints and directions will lead you to complete projects which will be worthy of your time and attention. You'll have fun being creative and know your work is well done!
tekst: bol.com
---
Less time, more style.

By using circle looms, knit-wear enthusiasts can simplify stitch work-improving the overall look of projects and creating tighter, neater designs. From eyelet lace to picking up stitches, the techniques and methods in this guide will help beginning-level stitchers create unique scarves. Projects are accompanied by instructional photographs and include Westminster Eyelet Scarf, Trafalgar Self-Fringing Scarf, Notting Hill Tube Scarf, Soho Neck Warmer, and Chelsea Hooded Scarf.
tekst: bol.com
---
Whether you are new to the wonders of this fascinating technique, or an experienced loomer, here are more than 40 projects for you to try your hand at. Designs include simple hats and scarves, handy tote bags, baby blankets, toys, beads, holiday makes for all the family, and more. A comprehensive technique section covers everything from casting on to cabling, and there is a whole chapter on embellishing your knitting with ribbons, beads, and embroidery to create that individual designer look. Clear and simple instructions throughout the book will guide you through each design step-by-step. Packed with helpful hints and tips and designer knowhow, this is a must-have book for any dedicated crafter.
tekst: bol.com
---
Socks are fun and easy projects to loom knit. In just a few hours you can create fabulous socks in every color, texture. and style imaginable! From thick socks for cold winters, to breathable sports socks for active knitters, this book can help you knit unique designs for all occasions. Another book in the popular loom knitting series by Isela Phelps, this comprehensive book reveals everything you need to know to loom knit socks. There are 50 projects for no-needle knitting---from colorful baby booties to beaded sophisticated numbers. As with the previous books, all the basics are covered in the comprehensive illustrated introductory chapter, so anyone, even a beginning loomer, is able to follow along. If this is your first time knitting a sock, turn to Socks 101 and make the class sock. It's easy and fast and only takes a few hours to master the technique. Move on to Sock Anatomy to learn about the different areas of the sock, the order in which they get knitted---toe up or toe down and what those terms mean. For experienced loomers wanting to learn more tricks of the trade there's invaluable advice in the book, everything from recommended yarns and sock sizes, to looming techniques and troubleshooting is covered. The 50 patterns in the book are divided into seven categories: Simple Socks, Textured Socks, Colorwork Socks, Fancy Cables and Beads Socks, Lace Socks, Kids Socks, and even Footsies--describing other foot coverings that can be used for pedicures and yoga class. You are sure to find socks that appeals to family members and friends. So grab your loom and sock it to them!
tekst: bol.com
---
Everyone loves hand-knitted socks! And now you can knit custom socks for everyone on your gift list - even if you've never knitted anything before! Fans of the adjustable KB Sock Loom will love this companion book, which provides a handy guide to the loom's basic instructions plus 11 great designs for babies to adults. It also includes handy tips on how to adjust the sizes to fit a larger or smaller foot. You'll be an expert in no time! The designs feature mock cables, beaded cuffs, several rib patterns, stripes, garter blocks, a toeless pedicure sock, and spiral tube socks and a baby hat.
tekst: bol.com
---
If you ever wanted to try your hand at board loom knitting here is all the information you'll need to get started. Knitting boards differ from looms as the material created is thicker and double sided. They have become a popular tool as they are easy to use and projects knit up quickly. Pat and Kim Novak, entrepreneurs and designers behind the Authentic Knitting Board company, share their expertise on how to use their popular boards. Covered in detail are core techniques, shown in step-by-step, close-up photography, along with easy-to-follow directions. All aspects are covered from the basics to more advanced techniques, so whether you're just learning to cast on, working basic stitches, or looking for solid advice on how to shape and join sleeves or add finishing details such as pompoms or a drawstring, you'll find everything you need to get started and more. With complete directions for thirty-three projects, ranging from easy to difficult, starting with fast and fun weekend projects like a colorful tote and advancing to more complicated projects, like a striped button-up jacket, this is the perfect introduction to board knitting.
tekst: bol.com
---
Yes, you can knit without using needles! Let a knitting wheel hold your work while you create hats, belts, scarves, handbags, and so much more. It's so simple, even a child can do it. And since there are no slippery needles to grip, the knitting wheel is the perfect creative tool for anyone whose fingers are sometimes stiff or painful. We'll show you how to use the round wheel and the straight wheel to create beautiful knitted fabric. Just follow the easy instructions. You'll soon finish a mohair evening bag, a "fur" wrap, a warm shrug, or any of 14 fun, fast, and fabulous accessories.
tekst: amazon.com
---
Presenting more great loom knit designs by Kathy Norris, this book includes designs for 10 innovative hats, scarves, and cowls. Fans of today's popular novelty mesh yarn will love being able to use their looms to create the Long Ruffled Scarf and Ruffled Cowl. Other designs include Newsboy Slouch Hat, Garter Stitch Infinity Scarf, Button-Up Slouch Hat and Cowl; Knit Cable Hat and Scarf, Broken Rib Hat, and child's Duo Color Hat. Our free on-line video library will help guide you to sure success.
tekst: amazon.com
---
Have you discovered the easy way to knit? The knitting wheel (a.k.a knitting loom) is your key to creating a whole new world of fashion. It's so simple, even a child can do it. And since there are no slippery needles to grip, the knitting wheel is the perfect creative tool for anyone whose fingers are sometimes stiff or painful. In this book, you'll use the knit, purl, and loop stitches, but you'll go way beyond the basics to knit hats, mitts, slippers, socks - even a blanket or poncho. There are so many fascinating techniques and new wheel shapes to help you create these fun designs! Learn how to change colors, fringe-as-you-go, make short rows, and create I-cord. We've also included a variety of ways to cast on and instructions on how to felt your knitwear.
tekst: bol.com
---
Make loom-knit gifts for all the mothers, babies, and children in your life! Kathy Norris's happy designs include fashion accessories in a range of sizes and an adorable sock monkey pillow that's perfect for hugging.

10 designs for Beginner to Intermediate skill levels, using light or medium weight yarns: Anklets, Slouch Beanie, Cowl, Hooded Scarf, Sock Monkey Pillow, Elf Hat, Baby Jacket, Fingerless Mitts, and Baby Socks (Striped and Ruffled styles).
tekst: amazon.com
---
If you have struggled to knit with needles, loom knitting is an easy craft to master. From beautiful baby booties to toys and blankets that will be treasured for generations, this book can help you knit unique designs for any baby or toddler. A sequel to the popular Loom Knitting Accessories, this comprehensive book reveals everything you need to know to create fun and adorable loom knits. There are more than 30 quick-and-easy inspiring projects for no-needle knitting - from cute and colourful baby mittens to sweaters, beanies, and even costumes. This book is for both beginners and experienced loomers wanting to learn more tricks of the trade. Start your new loom knitting adventure today and you'll never look back!
tekst: bol.com
Maak een Gratis Website met JouwWeb